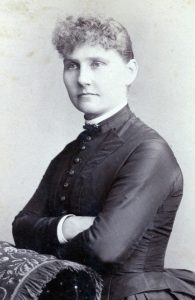 The Mail Order Bride by Quentin Robinson, County Historian
I recently encountered an interesting family history story concerning Martha Ann Goss (1832-1895). She is not an ancestor of mine, but was the mother of Malinda Barton (1852-1918) who married one of my great great grand uncles, William Robinson. I had always wondered how William Robinson came to know Malinda Barton and what had brought her to Tippecanoe County from Georgia but I do not normally do deep research into those families that marry into my own families and so I had never looked into the Barton family beyond knowing that Malinda Barton was born in Georgia and the "facts" of her life after she married into the Robinson family. When all you look at are the "facts" you can easily miss some great stories, and that was certainly the case with Malinda Barton Robinson.
History is really nothing more than a series of stories from the past, usually arranged in chronological order. Some are more meaningful or important than others and some are more interesting than others. Family history is essentially the same thing except the stories are more directly connected to our past. In the days before written language history, including family history, was passed by word of mouth from generation to generation. Often today family history is still passed from one generation to the next in the same way…word of mouth, from parent or grandparent to child. The problem with passing information by word of mouth from one generation to the next, is that by the time it has passed through two or three generations a story told might have little in common with the story as it was first told. Memories fade, stories become twisted, embellishments happen, critical details are left out. That seems to be the case with some of the remembered stories passed along to descendants of William and Malinda Robinson.
One of William's descendants once asked me what I knew about part of the family having Native American roots. It was something she had heard from a family member many years before. I had never heard that and told her I doubted it was true. Certainly there was nothing in the Robinson family that would have pointed in that direction. More on that question below.
Recently a descendant of Malinda Barton's brother contacted me and asked if I had a photo of Malinda, which I did, and which I shared with him. I also asked him if he had any idea what had brought the Bartons to Tippecanoe County and learned the same question had been on his mind. That prompted me to take a closer look at the Barton family and to again ponder what had brought them to Tippecanoe County. What soon became clear was that Malinda's family were war refugees. Martha Ann Goss was married to John Wesley Barton in Cass County Georgia in 1848. I found that John was a small farmer, owning no land or slaves according to both the 1850 and 1860 census returns. By 1860 John and Martha had six children, another son was born in 1861 about the time John enlisted in Company K, 18th Georgia Infantry Regiment along with many of his neighbors.
John Barton is believed to have died during the second day of fighting at the Battle of Gettysburg, July 1863. His name appeared in an Atlanta paper as a casualty soon after.
Cass county, renamed Bartow County in 1861, was profoundly affected by the Civil War, setting it back economically for many decades. During the War Bartow County was occupied by William Tecumseh Sherman in May, 1864 during the Atlanta Campaign. While no major battles occurred in the county a number of minor ones did and a major one would have happened if corps commander John Bell Hood had not been concerned about reports coming into his headquarters of Yankees to his rear at Cassville.
After the Atlanta Campaign but before the March to the Sea, Hood again returned to Bartow County, this time as commander of the Army of Georgia. Sherman was effectively using the Western and Atlantic Railroad to supply his troops from the railhead in Chattanooga, Tennessee and fattening his cattle in Bartow County's fields before moving them south to feed his troops. Hood's men, ill-fed and poorly supplied could use the stores in the warehouses so the commander sent Samuel French to fill Allatoona Pass and deplete the stores near the Allatoona Depot.
In the Battle of Allatoona Pass, the largest battle to occur in Bartow County, French surrounded federal general John Corse in a star fort overlooking the pass but was forced to retreat when he received reports of a significant Union force approaching. This was backed up by a communication from Sherman to Corse intercepted by French that Sherman was "near" although Sherman never left his Kennesaw Mountain stronghold.
To ensure that Georgia did not have the means to rebuild, as Sherman left for Savannah he removed the railroad track from Dalton to Allatoona Pass and destroyed the track south of Allatoona Pass by having his men twist them into Sherman's Neckties. His last communication with the north occurred in Cartersville on November 12, 1864 and Sherman destroyed Cassville (Bartow County seat at the time) and portions of Kingston and Carterville. As a result the winter of 1864-65 was one of the hardest for Bartow's citizens and saw many citizens leave. In 1867 the county decided to move the county seat to Cartersville.
It's impossible to know exactly what was happening to the Barton family during the war. It couldn't have been good and the outlook for a widow such as Martha, with children, was grim. It is possible that Martha and her children remained on the same ground she and her husband had been working prior to the war. She might have moved in with relatives, or she might have fled the immediate area to someplace where she felt safer.
What we do know about Martha is that on 27 October 1865 Martha was married to Johnson Graves in Tippecanoe County Indiana. Now this was a puzzle. She had no known relatives living in Tippecanoe County at the time, at least nothing obvious appeared in searches of local census records and Johnson Graves had no apparent connections with Georgia. Still I felt certain that her arrival in Tippecanoe County was not random, she would have had many other options if all she was seeking was a safer place.
I thought there had to be some specific reason Martha and her seven children ended up in Tippecanoe County rather than any other place. I wondered if perhaps some local relief organization might have been working to bring war refugees to safer locations so I asked someone who has studied the Civil War and that era in much greater depth than I. I asked if there were any relief organizations that he knew of doing such work. His response was both surprising and enlightening. In short he explained that there were some organizations around the country during and after the war that helped war refugees, some small church groups and right after the war the U.S. Christian Commission, but they usually raised money for food, clothing, medical needs and blankets, not relocation. He posited that she was quite likely a "mail order bride". A widow such as her, with children, in a destroyed Georgia had little prospects beyond begging for food from the occupying Federal forces. It was common to see women her age marrying men who were 20, 30, or even 40 years their senior. It was the only way to ensure their survival and the well being of their children. They would contact an "agent" who would then place adds in papers all around the West and Midwest and the suiter would pay the Agent's fees and the travel expenses for the widow and her children.
In the end there is no way to verify if she was a mail order bride, but the circumstantial evidence seems pretty strong. In researching the life and times of Martha Goss Barton I uncovered one other interesting fact that goes back to the question from one of William Robinson's descendants about Native American roots. Based on prior research done by others in the Barton family Martha Goss's mother was most likely a Cherokee Indian. While I did not attempt to dig deeper into that question the family legend had certainly been passed along by at least some of the Grandchildren of William Robinson.