Janeral Tootle
(c. 1827-1892)
Underground Railroad Conductor and Civil War Veteran
By Mary E. Anthrop
"… free (African Americans) in Indiana had some rights which white men might find it prudent to respect."
Lafayette Daily Courier July 5, 1860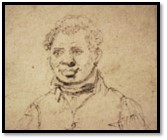 An 1860 arrest in Crawfordsville, an alleged station on the Underground Railroad, illustrates the perils of life in a free state for African Americans after the passage of the 1850 Fugitive Slave Act. According to the Lafayette Daily Courier, a southern slave catcher claimed "Gen'l" Tootle," a popular Lafayette barber, was the fugitive "Jacob." He produced a handbill offering a $300 reward for the return of the runaway. The handbill appeared to describe in detail the personal description, including clothing, that actually matched the appearance of Tootle. Tootle did not easily submit to the accusation. The newspaper article explained that Tootle was "equal to the occasion." He established his identity as free man of color and "armed with a revolver and bowie-knife gave Mr. Slave-catcher to understand that "free (African Americans) in Indiana had some rights which white men might find it prudent to respect."(1) Tootle's courageous response to the slave catcher lends credibility to the claims that Tootle was an Underground Railroad conductor and engaged in the Union cause during the Civil War.
Details of Janeral (Jeneral or General) Tootle's life in Lafayette are few. In the 1850 and 1870 censuses he claimed North Carolina as his birthplace. Tootle was likely related to founders of the Beech settlement in Rush County. Free African Americans from North Carolina established the rural central Indiana settlement in the 1830s. When economic opportunities declined and racial tensions increased against free blacks in North Carolina, free black families moved West – first to Ohio and then to Indiana. One "General Tootle" owned forty acres in the Beech settlement.(2) A younger Janeral Tootle could also have moved further West – to Lafayette in 1844. Tootle married his wife Elizabeth Cook in Lafayette in 1849. She died in 1879 and was buried in Greenbush Cemetery.(3) U.S. Federal Census records and Lafayette city directories identify Tootle's occupation as barber and hairdresser with his shop and residence on Main Street.(4)
Evidence of Janeral Tootle's role on the Underground Railroad and his participation in the Union cause is vague, but hints at a significant contribution. Claims concerning Tootle's Underground Railroad activity are limited to two newspaper references. The author of the 1860 Lafayette Daily Courier article on the attempted kidnapping identified Tootle as a "general freight agent on the Underground Railroad."(5) In a 1916 Lafayette Daily Courier article, "Local People Who Assisted Negroes Escaping to Canada Before the War – Some Hitherto Unwritten History, Alva O. Reser referenced abolitionists found in Jane C. Harvey's History of St. John's. He also collected statements from surviving adult children of reputed Underground Railroad agents. An adult child of William Foster, a superintendent of the New Albany and Salem railroad, recalled his father's and his friend, Dr. Luther Jewett's, intense hatred of slavery. He further commented: " A very black man-now severely white in the Kingdom-Jineral Tootles by name, would come in the dead of the night and ring the door bell, saying under his breath, 'Mr. Foster, I've got a man. All right Jineral, take care of him tonight; we'll tend to him in the morning.' The man was surely fed and 'tended'."(6) While the preceding statement does not detail Janeral Tootle's Underground Railroad activity, it does reveal the necessary cooperation and trust between members of the black and white communities that ensured the safety and successful escape of freedom seekers.
A deposition for a pension claim for Isaac M. Wheeler in 1889 suggests Janeral Tootle played a role in the Union Army during the Civil War. He testified of being 58 years of age, and worked as a barber in Lafayette. He also stated: "I was in the service as messenger for Gen'l. Wagner, Col. of the 15th Indiana.(7)
As Janeral Tootle resumed civilian life in Lafayette after the Civil War, his name occasionally appeared in the local news. He took an interest in civic affairs. In 1874 he was a chairman of a committee of Lafayette African Americans who adopted resolutions recognizing Hon. Charles Sumner of Massachusetts on his death as the "protector of the oppressed and the defender of true constitutional liberty."(8) He was on the committee on arrangements for a well-known Black lecturer to speak in Lafayette.(9) In 1880 Tootle joined the Colored Republican Garfield Guard, a political and ceremonial organization. The drill company, of which Tootle was the elected First Lieutenant, participated in the fall election campaign.(10)
Janeral Tootle also continued to be "equal to the occasion" in infrequent disputes. Once a drunken party attempted to bully him into opening his barbershop after it was closed. When an assailant drew a revolver during the confrontation, he fired it into the air when he realized Tootle was not to be frightened!(11)
Newspaper commentaries on the death of Tootle in June of 1892 provide the final details of his life. In the last months of his life Tootle, without a wife or family, fell ill and without funds; he was sent to the county asylum. At his death the Lafayette Leader obituary commented: "Mr. Tootle was all through the war, contributing all in his power for the comfort of Sale (Salem or S.F.) Fry and other union soldiers…." Moved by his admiration for soldiers, Trustee Job Sims sought donations for a proper burial. Tootle was buried (next to his wife in Greenbush cemetery) with all the honors of a veteran.(12)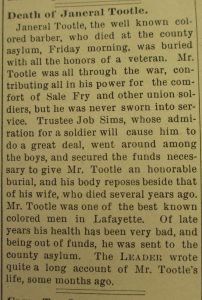 1 "Gen'l. Toodle claimed as a Fugitive Slave," Lafayette Daily Courier, July 5, 1860.
2 Stephen A. Vincent, Southern Seed Northern Soil: African-American Farm Communities in the Midwest, 1765-1900 (Bloomington and Indianapolis: Indiana University Press), 22, 37, 47, 57, 71, 84, 169.
3 "Death of Mrs. Tootle," Lafayette Daily Courier, February, 1879. According to the obituary of Elizabeth Tootle, Elizabeth was raised in the family of the deceased Judge Andrew Ingram. The widow provided a burial place for Elizabeth in the Ingram family plot.
4 1850, 1870 and 1880 U.S. Federal Census. Lafayette City Directory – 1867, 1871-'72, 1874, 1875-'76, 1876-'77, 1878-'79, 1879-'80, 1881, and 1883-'84.
5 "Gen'l. Toodle claimed as a Fugitive Slave," Lafayette Daily Courier, July 5, 1860.
6 Alva O. Reser, "Local People Who Assisted Negroes Escaping to Canada Before the War – Some Hitherto Unwritten History," Lafayette Daily Courier, April 1, 1916.
7 Deposition B, No. 280,678 November 4, 1889, Lafayette, Tippecanoe County, Indiana, Pension Claim of Isaac M. Wheeler.
8 "The Africans and Senator Sumner," Lafayette Daily Courier, March 13, 1874.
9 "Professor Wilson," Journal and Courier, December 10, 1927.
10 "The Colored Republicans," Lafayette Daily Journal, August 4, 1880.
11 Lafayette Daily Journal, March 7, 1874 and "Performance Extraordinary," Lafayette Daily Courier, March 7, 1874.
12 Lafayette Daily Courier, June 15, 1892, "The Death Roll," Lafayette Daily Courier, June 17, 1892, and "Death of Janeral Tootle," Lafayette Sunday Leader, June 19, 1892.