Heinz Company
1891-1901 & 1914-1916
By William J. Dichtl
Originally published in TCHA's membership newsletter, Weatenotes, Vol. 25, No. 4, April 1992.
The Heinz Company of Pittsburgh, Pennsylvania, in the early 1890's became interested in establishing a plant in Indiana. On February 14, 1891, a committee chaired by Jonathan H. Heinz was appointed to locate and secure a site in Indiana. The Land & Improvement Company, headed by Adams Earl, donated 30 acres of land and a sum of money for Heinz to building Lafayette.
The Heinz Company announced on July 13, 1891, plans to open a plant to manufacture vinegar, sauces, catsup, pickles, preserves, jellies, mustard, horseradish and krauts. The site would be along the Lafayette Belt Railway.
The next day excavation began on the old John W. Heath farm on East Union Street at the present* site of Essex Wire Company (northeast corner of Route 52/Sagamore Parkway and Union Street). The construction of the factory cost $40,000.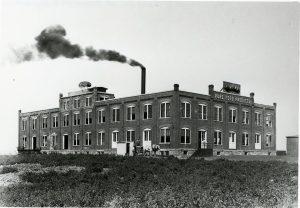 By the summer of 1892, the plant was in operation. Among townspeople it was known as the Heinz Condiment factory, employing up to 250 people, depending on the season. A long-time Lafayette resident, Sadie Cadwallader said, "Some say at one time it was Lafayette's largest employer. Everyone wanted to work there. They paid good wages."
The Heinz Company used 348 acres to raise vegetables, especially cucumbers sand tomatoes, needed in the factory. They also had local farmers under contract to grow cabbage, tomatoes and cucumbers.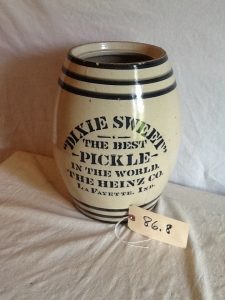 By 1901 the Lafayette plant had fallen on bad times. Competition was strong and the Heinz Company equipment was outmoded. The plant was in receivership with liabilities totaling $90,000 and assets of $55,000.
The building sat vacant until 1903 when the Cruikshank Brothers purchased the property to process pickles. The Cruikshanks, a Heinz competitor, lasted in Lafayette until January 1905.
In August of 1914, the Heinz Company made an attempt to revive business in Lafayette. They reopened with new equipment to process tomatoes for catsup and chili sauce. The revival failed in 1916.
The Lion Tire Company bought the plant site from Heinz Company in 1916. Other businesses to occupy the site include the Brown Rubber Company, Napco Chemical Company, and the present (1992) occupant, Essex Wire Company*.
*Note: The 2022 occupants are Southwire and E-Beam Services Inc.