Evaleen Stein by guest blogger Anneliese M. Rogers
Happy Women's History Month! To celebrate March, we are going to take a look into Lafayette author, poet and artist – Evaleen Stein.
Evaleen Stein was born in Lafayette on Monday, October 12, 1863 to John Stein (1832 – 1886) and Virginia Tomlinson Stein (1940-1924). She was the youngest of the two Stein children – her older brother was Orth Stein. John Stein was an attorney and member of Senate. He drafted the bill which founded Purdue University. Virginia Tomlinson Stein became a librarian of the Lafayette Public Library after her husband died in 1886. In the Stein family, the children were encouraged to be creative and use their imagination. According to Robert C. Kriebel, "Their parents read them stories and taught them to reason, to notice, and to draw pictures of things" (Kriebel 21). Evaleen and Orth did just that.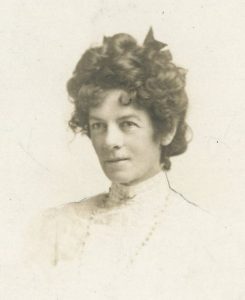 The Poet
Evaleen wrote many poems- she wrote about holidays and all the seasons. She created sweet tales with her imagery and words. They are wonderful poems for children to read which makes sense as she wrote children's books as well. She loved nature and readers are able to see this in her work. In Kriebel's book, he wrote of Evaleen – "She daydreamed about kittens, hearthside fires, dew, apple blossoms, daffodils, the aroma of lilac, and twinkling stars." (Kriebel 23). If you would like to read through some of her poems – you can go to poemhunter.com/Evaleen-stein/poems/. For now I will share my favorite poem from Evaleen Stein!
"A robin redbreast, fluting there
Upon the apple-bough,
Is telling all the world how fair
Are apple-blossoms now;
The honey-dew its sweetness spills
From cuckoo-cups, and all
The crocuses and daffodils
Are drest for festival!
Such pretty things are to be seen,
Such pleasant things to do,
The April earth it is so green,
The April sky so blue,
The path from dawn to even-song
So joyous is to-day,
Up, little ones! and dance along
The lilac-scented way!"
The Artist
Evaleen was also a talented artist and TCHA is lucky enough to have some of her art. We have two illustrated framed poems that Evaleen painted between 1897 and 1905. The poem and painting "Blessing for the New House" was a housewarming gift for Mr. and Mrs. C. R. Underwood.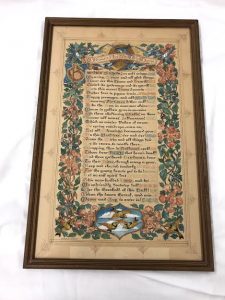 TCHA has two of her watercolor paintings. The first is a pair of swamp blackbirds which is sadly undated. The second is called "The Bunk" which is located on the Kankaee Rover. The bunk was built by a group of Lafayette men – Frank Spencer, William V. Stuart, Dr. R.B. Wetherill, and J. Charles Andrew. This bunk was rather popular summer camp in the 1890s.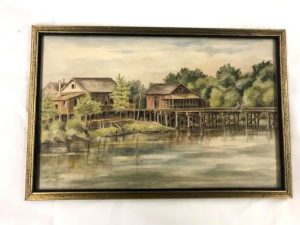 By far my favorite piece of art is the painted folding bamboo screen. It is a really beautiful piece. There are different flowers on the three panels and it is double-sided. You can just imagine how lovely it was when it was first painted. This photo show the detail that went into the piece. The screen belonged to Dr. Richard B. Wetherill.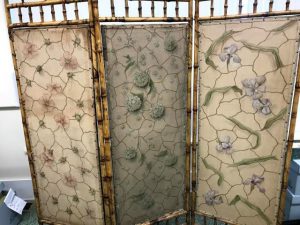 The Author
Evaleen Stein is mostly known for is her children's novels. She wrote and wrote – filling books with wonderful tales for a child's mind. It is hard to pin-point how many books she wrote but TCHA does have thirteen of her novels. One of her most popular works was the series, Little Cousin. She wrote and created a little cousin from a different country for the children that read her books.
She also wrote quite a few novels relating to religion like her novel – "Gabriel and the Hour Book". She had been fascinated by myths, religion, and cultures. She devoured everything she could about these subjects.
Her novels are a wonderful addition to any child's bookshelf and would suggest checking some out!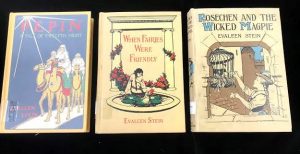 Reference:
Kriebel, R. C. (1990). Poets, painters, paupers, fools: Indiana's Stein family. West Lafayette, IN: Purdue University Press.
Evaleen stein poems – poems of evaleen stein – poem hunter. (n.d.). Retrieved March 18, 2021, from https://www.poemhunter.com/evaleen-stein/poems/