50 Year-old Packet Unsealed
This article first appeared in the TCHA newsletter, Weatenontes Vol. 17, No. 6, July-August 1984.
A small brown packet, deposited in the Archives of the Tippecanoe County Historical Association on June 15, 1934, and ordered sealed for 50 years, was opened June 15, 1984 by TCHA Archivist Sarah Cooke, in the presence of association Director John M. Harris, Curator Richard Stringfellow, and Librarian Nancy Weirich.
The packet contained an archivist's dream: the collection of a single individual, prepared by him three days prior to his death, and undoubtedly containing those things held most precious by him. He gave it to the Battle Ground Collegiate Society, which then deposited it with TCHA for safekeeping.
The collection is that of Horatio Nelson Ogden, born on August 20, 1843, in Tippecanoe Township, Tippecanoe County, Indiana, the son of Daniel and Mary (Barnes) Ogden. He married Julia S. Hull in 1872 and died on June 18, 1934. He is buried in Crown Hill Cemetery in Indianapolis. Ogden was described upon entry in the Civil War as 5'5" tall, with light complexion, grey eyes, black hair, and his occupation was that of a miller.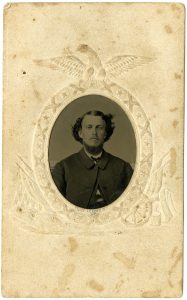 The packet contained Ogden's Civil War diary. He served in Co. E., 135th Indiana Regiment, from May 11 to September 17, 1864, and began his diary, "While in the 100 days service, U.S. Vol." It covers his experiences as a musician and concludes with his arrival home in Battle Ground. Tucked inside a pocket in the diary were two songs written by W.W. Montgomery, a member of the Illinois Volunteer Regulars: "From the Crimson Fields They're Coming" and "Home We Come to Love and Thee."
In addition to the diary are such interesting items as the following:
A brief chronology of his family's history from 1750 to 1920;
a vellum diploma conferring an honorary Doctor of Divinity degree upon Ogden from Upper Iowa University, Lafayette, Iowa (Ogden became a Methodist Minister);
a certificate commissioning Ogden as an aid-de-camp of the Grand Army of the Republic, September 9, 1925;
a request by the members of the Oxford Methodist Church to the Bishop to return Ogden to them as their pastor (they would pay $600 for his support), Aug. 28, 1872;
his military discharge papers;
a note giving the history of the formation of the Genesco Class (Methodist) in 1837, and his certificate of admission into the class, May 9, 1854 (at the age of 10);
several papers dealing with the "new pension law" (Sherwood-Smoot Act, Civil War Veterans' pension);
a certificate of membership in the Preachers' Aid [retirement] Society of the North West Indiana Conference, Methodist Episcopal Church, July 6, 1876;
parchment order making Horatio N. Ogden an elder of the Methodist Episcopal Church (North West Indiana Conference), Sept. 14, 1873.
Also included was an envelope labeled "Souvenirs. Battle Ground College Institute". The envelope included 21 items, many of which were new additions to the archives:
an alumni directory, dated August 1918,
a booklet compiled Christmas 1915 by O. D. Kirk of Wichita, Kansas containing copies of programs, which Kirk had saved and reprinted from the institute,
programs of the institute's Philomathean, Platonean, and Sigournean Literary Societies,
Ogden's grade reports for 1858-9, 1860, 1868, 1869 (he received straight 100s and even one 100+1),
tax receipts,
Masonic Dimits from Williamsport (1884) and Kentland (1892),
certificate of examination enabling Ogden to teach, Tippecanoe County, Nov. 25, 1865,
envelope containing personal items, including sympathy cards, gift card that accompanied a gold-headed cane (listing names, Oct. 16, 1891), newspaper clippings,
letter from A.B. Yohn, secretary of DePauw University, conferring upon Ogden the honorary degree of Master of Arts, 1890,
licenses and renewals to preach, pray and exhort at various places.
Archivist Sarah Cooke contacted the DePauw Archives, upon completion of an inventory of the packet sealed so long ago by Ogden, for further information about him. His obituary noted, in addition to the above, that Ogden was:
a student in Battle Ground public schools,
a student at the Tippecanoe Battle Ground Institute, 1858-60,
a student at the Battle Ground Institute, 1868-69,
an ordained Deacon (1871) and Elder (1873) of the Methodist Episcopal Church of Northwest Indian Conference (both orders were signed by Mathew Simpson, the first president of DePauw University and minister to Abraham Lincoln),
a pastor in Battle Ground District, Indianapolis, Covington, Goodland, South Bend, among other places,
a field agent for Methodist Book Concern, Cincinnati, Ohio, 1901-06,
an agent for Preacher's Aid Society, 1907-11,
and president of Simpson Chapter of Epworth League, 1889-91.
According to John Harris, TCHA Director [in 1984], the packet will contribute significantly to the archival collections of the Tippecanoe County Historical Association. The diary is being transcribed by volunteer Norris Darrall to see if there might be some merit in publishing it in some form, and to then use the remaining materials to add further information to the existing files, particularly those relating to the Battle Ground Collegiate Institute.
There was speculation as to why Ogden wanted the packet sealed, since nothing controversial seemed to be contained there in, but perhaps Ogden felt that after a waiting period of 50 years there might be more interest in, appreciation for, and willingness to preserve his personal "treasures."
Note: The Horatio Nelson Ogden collection is available for research in the TCHA Richard B. Wetherill Archive.