Jun
3
Sat
La Fête de St Jean Baptiste

@ Fort Ouiatenon
Jun 3 @ 10:00 am – 4:00 pm
This event will showcase the material culture, life ways and skills of the French Occupation of Fort Ouiatenon circa 1740-1760. Additionally, vignettes and activities of period Midsummer Festivals will be held to showcase what colonial french people's may have done to celebrate religious holidays in the time.
While life was often hard and unforgiving on the edges of the fledgling colonial empires in North America, people still knew how to have fun. In France, and in the New French Colony of Canada which included today's State of Indiana and Fort Ouiatenon, feast days of the Saints in the Catholic church often were used as excuses to stop working and to have a celebration. The most famous of these midsummer celebrations for the French Colonists, traditionally celebrated with food, bonfires, and in Canada an odd twist on the Maypole ceremony, is the Feast of Saint John the Baptist. La Compagnie des Beaux Eaux is the sponsor of this living history event. The event is free to the public.
Jun
24
Sat
Telling Quilt Stories

@ The History Center
Jun 24 @ 10:00 am – 4:00 pm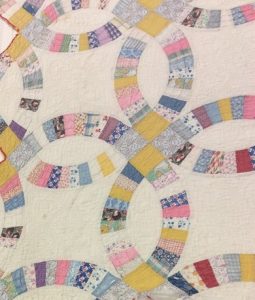 Join the Tippecanoe County Historical Association and the Old Tippecanoe Quilt Guild for a celebration of historic quilts. Bring your historic quilt for help with textile and pattern identification, learn about hand and machine quilting and participate in children's activities. Historic quilts from the collection of TCHA and guild members will also be on display.
A special preview for members of TCHA and the guild will be available Friday, June 23 from 6-8 pm.